< Back to Events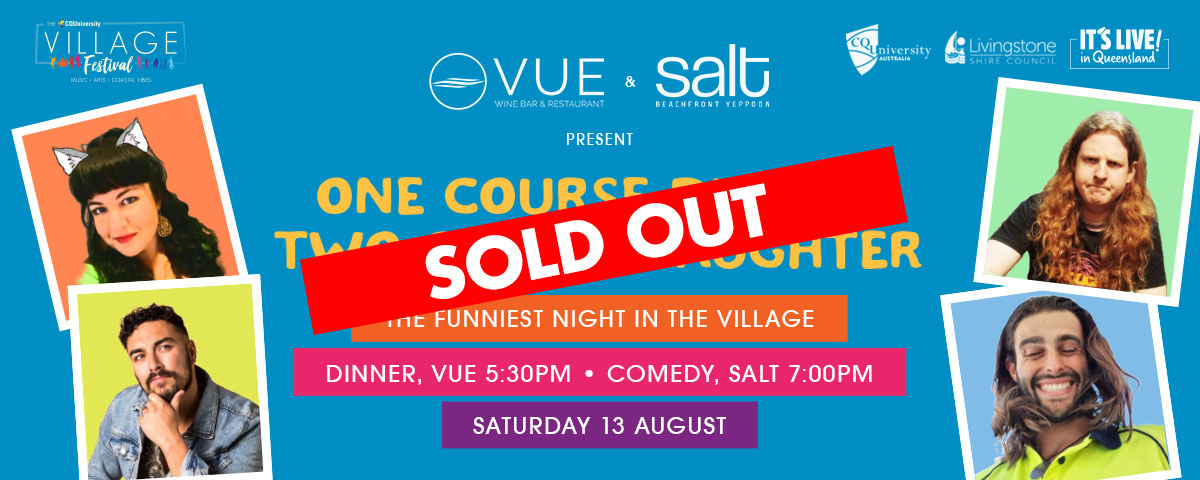 Date & Time
Saturday August 13 , 2022
5:30pm - 8:30pm
VUE and SALT Present:
One course dinner, two course laughter – The Funniest Night In the Village
Join this hilarious cast of comedians, fresh from sold out shows at Melbourne International Comedy Festival, for dinner and drinks at the renowned VUE Wine Bar and Restaurant before experiencing the full stand-up comedy show live at the Salt Comedy Club.
5:30pm-6:30pm Dinner Service
6:30pm-8:30pm  Funniest Night in the Village Stand-Up Comedy
Comedians
Daniel Holt
Coming off the back of the highly successful show, British Invasion at Melbourne Comedy Festival, Daniel Holt has crossed the pond and is here to stay. Your MC for the night.
Peter Dahms
Raw Comedy Winner Peter Dahms is QLD born and bred. With jokes of the land, sea, and those special people who come from out west, expect healthy serves of country humour.
Anna Brennan
Anna Brennan is BACK! From performing at last year's Village Festival, Anna Brennan has gone on to work with some of Australia's comedic royalty, Akmal, Steph Tisdell, Damien Power, and performing more than 20 shows at Melbourne Comedy Festival this year.
Max Leishman
Max Leishman is cutting his teeth on this year's touring circuit. Don't miss the opportunity to catch this talent before he blows up!
Tickets: $75 +booking fee, includes:
Pasta (alternate drop Beef Ragyu or Carbonara)
Garlic Bread
Glass of house red or white wine
90 Minute stand-up comedy show
Bar available at both Vue and Salt. Gluten free and vegetarian options available.