< Back to Events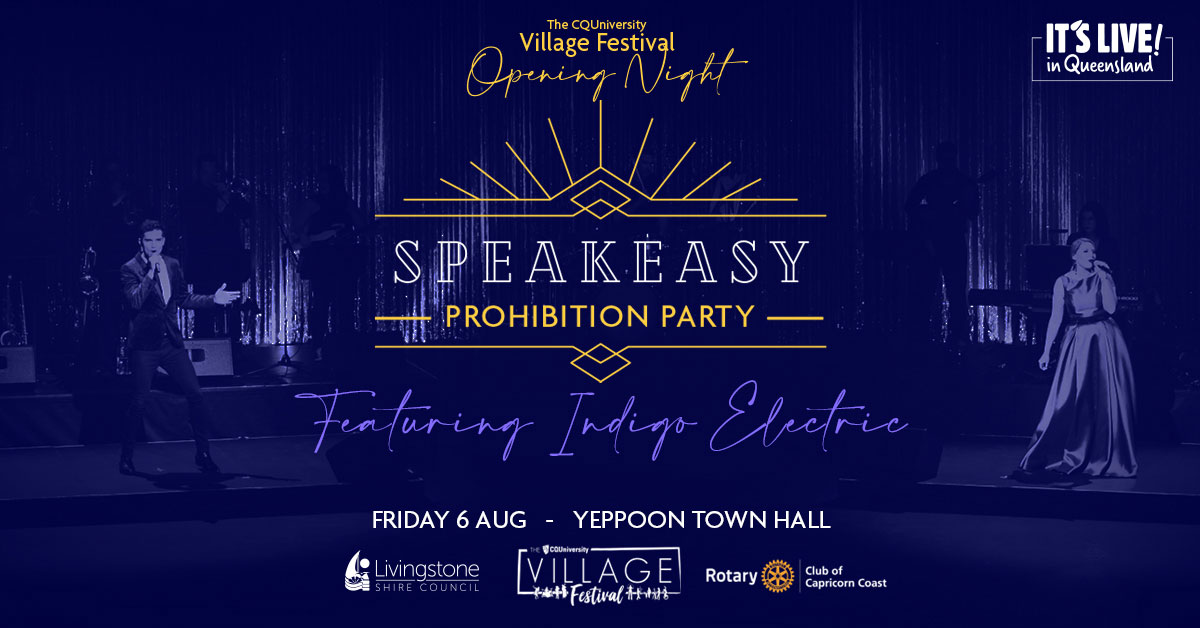 Date & Time
Friday August 6 , 2021
6pm
Put on your best suits and flapper dresses for the CQUniversity Village Festival opening night Speakeasy Prohibition Party, brought to you by the CQUniversity Village Festival and Rotary on Capricorn Coast.
Experience Yeppoon Town Hall transformed into a Roaring 20's Speakeasy, featuring a deliciously prohibition-themed three course dinner PLUS live music by Indigo Electric performing hits from Michael Buble, Frank Sinatra, Adele, Beyonce, Amy Winehouse, Marvin Gaye, Elton John, Shirley Bassey, Frankie Valli and many, many more.
Vegetarian option available – please email rotaryoncc@gmail.com at time of booking.
Tickets $90 per person.
Tables of 8 (book a table or individual places)
Bookings close Wednesday 4 August. Refund policy: no refunds after 4 August.
This event is Covid-19 compliant and social distancing rules will apply.
Entrees
Selection of devilled Eggs and shrimp cocktails served to the table
Main – Alternate Drop
Bourbon glazed baked ham
Herb chicken Maryland
Both served with seasonal vegetables and condiments
Dessert
Pineapple Upside Down Cake or mini cheesecake selection
#Vegetarian option available if nominated at time of booking