< Back to Artists page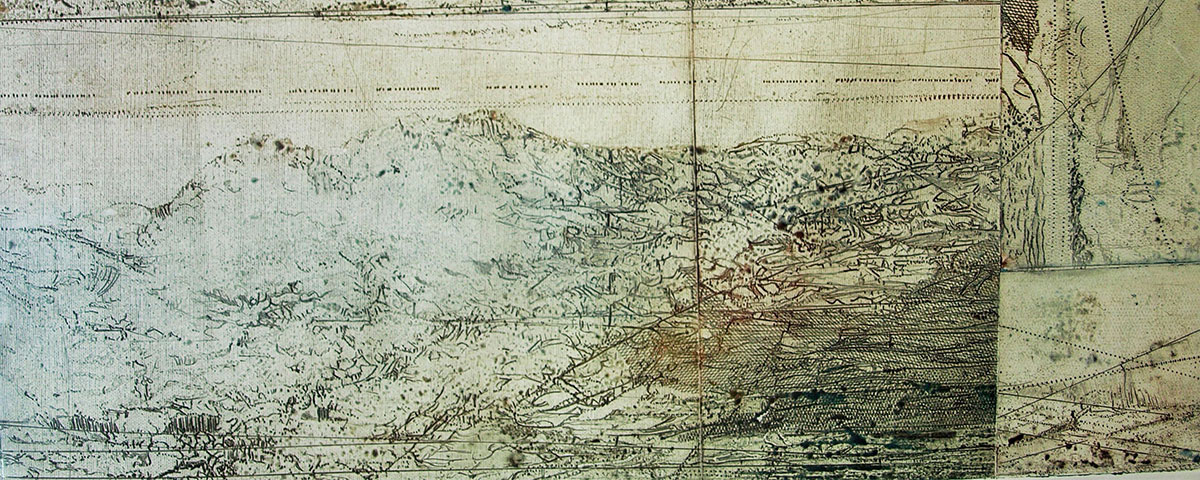 Under Capricorn, Keppel Bay 2015
Embossed and engraved P.V.C. plate.
Plate size: 53 h x 60 w
Toonooba (The Fitzroy River) holds spiritual and cultural significance to C.Q's Darumbal people.  Toonooba's catchment is the second largest in Australia.  This image depicts Keppel Bay and the importance of Toonooba's flow from the Melaleuca Swamps onto the many estuaries within Keppel Bay. Here it sustains vital food sources for the survival of many forms of wildlife and upholds an important supportive role in the habitats of this region. It is vital in the sustainability of this regions fishing industry as it provides physical structure and invaluable support for these estuaries /swamps by absorbing and then slow releasing floodwaters whilst filtering and distributing essential nutrients.  Ultimately signifying the vital role which this catchment zone holds within Capricornia by highlighting this rivers' ecosystem and ecology – thru the Melaleuca Swamps into Keppel Bay.
                                                                                  Yvonne Moloney – Law

Yvonne Moloney-Law was born Yvonne Ann Elton in 1964 in Rockhampton.
In 2004 she completed a Diploma in Visual Arts, majoring in painting and printmaking. During her studies Yvonne was mentored by artist and teacher Peter Indans.
Indans would have a profound influence upon Yvonne's artistic thinking and her arts practice, fostering a fascination for experimentation of techniques, materials and ideas. This led to the use of p.v.c. plates in her arts practice — engraving and embossing of fine particles, which resulted in mark-making and textures that has become a unique signature of Yvonne's intaglio images.
One of the few true experimental Printmakers working on the scene in CQ, Yvonne's work in this series takes the rivers, water catchments, mountains and the estuaries, and depicts the landscape as poetic images by entwining materials, medium and topic to produce images that are unique to her signature.
Works resemble cartographic maps and are a deliberate attempt to superimpose the traditional custodian's influences with scientific information pertaining to the geographical areas represented.
Yvonne's recent folio of works have gained selection and awards in major Visual Art competitions throughout Australia.
Invited Exhibitions
2015 Cream of the Crop, Finalist- Flying Arts Regional Art Awards.
2014 Bold – Walter Reid Cultural Centre Rockhampton Queensland
2013 TRACE-Installation Rockhampton-Botanical Gardens
2007 Surface and Depth at the Rockhampton Art Gallery Qld
Selected Exhibition
2015 Rick Amor Print Awards, Finalist – Montsalvat, Victoria
2015 CQU Creates, Finalist touring exhibition – Central Queensland University, Rockhampton
2015 CQU Creates exhibition, Finalist, – Central Queensland University, Rockhampton.
2015 Gippsland Print Awards- Wellington Art Gallery, Victoria.
2015 Cream of the Crop, Finalist- Flying Arts Regional Art Awards.
2015 Cream of the Crop, – online exhibition
2105 Touring exhibition – Flying Arts Regional Art Awards.
2015 Burnie Print Art Awards, Finalist – Burnie Regional Art Gallery, Tasmania
2015 Bayton Art Award, Honourable Mention – Rockhampton Art Gallery
2014 Bold – Walter Reid Cultural Centre Rockhampton Queensland
2014 Martin Hanson Rio Tinto Art Awards, Highly Commended – Gladstone Regional Gallery
2014 Noosa Art Awards, Finalist – Noosa Regional Art Gallery
2014 Vital Signs" Queensland regional Art Awards 2014 – online gallery (August)
2013 Bayton Art Award Finalist – Rockhampton Art Gallery
2012 Bayton Art Award Finalist Rockhampton Art Gallery
Recent Exhibitions
2017 Under Pressure – The Butter Factory, Cooroy
2016 A Younger Country – The White Canvas Gallery, Fortitude Valley
Instagram: @moloneyyonne
EVENTS: