< Back to Artists page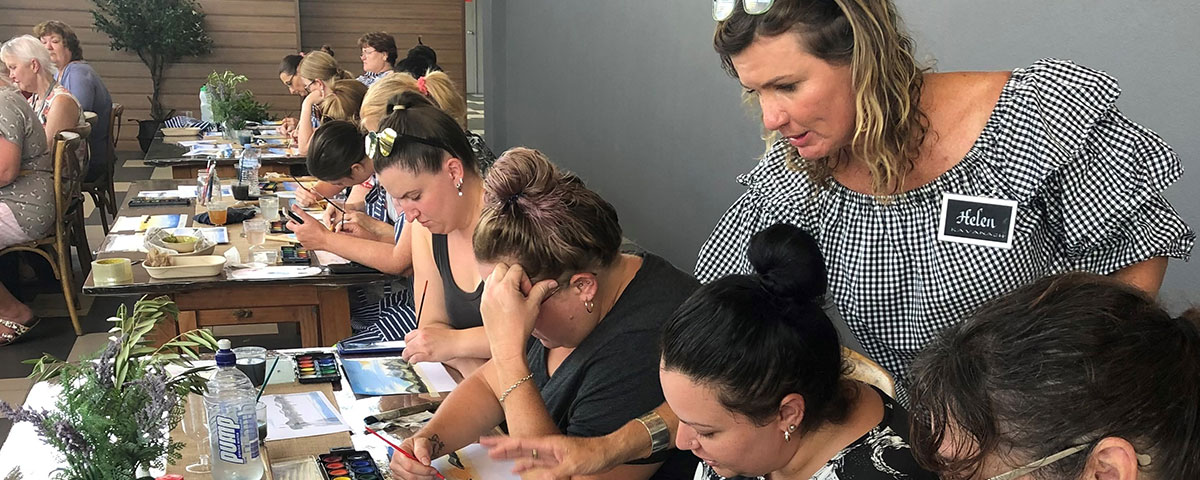 I am a creative artist who is passionate about the environment and doing what I can to look after my corner of the Earth.
My other artistic pursuits are drawing, painting, photography and sculpting objects from re-cycled materials. At the end of 2018 I completed my Diploma of Visual Arts at CQU which has taught me many new skills and informed me to have a more sustainable arts practice.
In 2019 and 2020 I took on the role of Artist Educator at Rockhampton Art Gallery where I have taught Watercolour classes and other sustainable craft.
Rockhampton Regional Council also employed me to create a sculpture from litter debris of one of the many local animals that are affected by the waterways being polluted. I made 'Polly (luted) platypus from an old volleyball, Styrofoam, a discarded thong, glasses and many brown iced coffee bottles. This sculpture was then used as an educational tool and on display at the Tropicana festival at then Botanical Gardens
I have also been employed by Rockhampton Regional Council, where I travelled to Mt Morgan to facilitate 5 workshops with the emphasis on sustainability. I have taught others to create products from natural materials and re-cycled objects. I have taught people how to make bees wax wraps to replace the use of plastic cling wrap, that are aesthetically pleasing, useful, not harmful to our environment. I also facilitated classes creating candles, candle-holders, natural lip balm, natural deodorant and a variety of Christmas craft and decorations. To pass on these skills to others gives me great joy and satisfaction and is be beneficial to our community.
Sadly the last week of March 2019 saw the closure of the Rockhampton Art Gallery, to the public, due to the global pandemic. Although I was fortunate enough to work there doing administrative duties, there were no programs or teaching for me. I really missed the interaction with creative people.
After 2 years in limbo, like most of the world, with no programs being run at the Rockhampton Art Gallery I took on a new role as Arts & Activation Officer at Livingstone Shire Council. I have been asked to facilitate workshops both in Yeppoon and in Rockhampton. Looking forward to more hands-on Art in 2022!